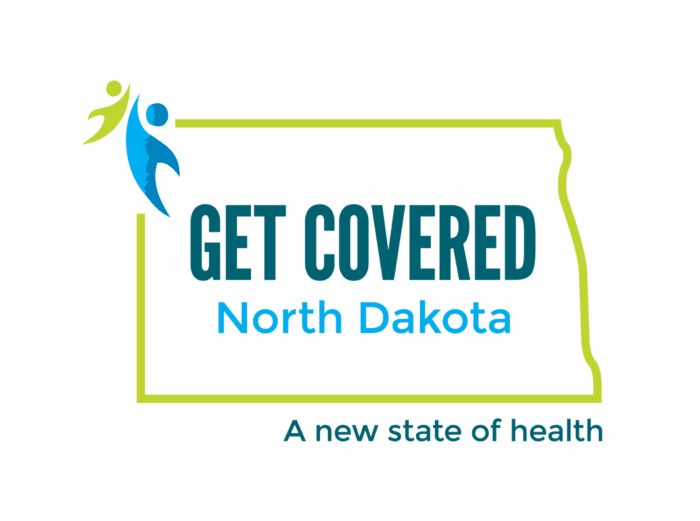 A New State of health
WELCOME TO GET COVERED NORTH DAKOTA

Get Covered North Dakota is a centralized hub of information and resources about the Health Insurance Marketplace | HealthCare.gov.Find someone nearby to help you apply in a health plan and see if you might save on Marketplace premiums, or qualify for Medicaid or Children's Health Insurance Program (CHIP), based on your income.
You can enroll in or change plans if you have certain life changes, or qualify for Medicaid or CHIP.
You may qualify for Special Enrollment Period
if you have certain life changes, or qualify
for Medicaid or CHIP.
See if You Can Change
You can change only if you have a life event —
like moving, getting married,
or having a baby— that qualifies you for a
Special Enrollment Period.
Assisters are trained and certified individuals required to provide fair, impartial, and accurate information. Find someone nearby to help you apply in a health plan and see if you might save on Marketplace premiums, or qualify for Medicaid or Children's Health Insurance Program (CHIP), based on your income. Statewide assistance may be available.
Get Covered SD
Health Care Basics
THE VALUE OF HEALTH CARE INSURANCE
Health insurance helps pay costs when you need care
No one plans to get sick or hurt, but most people need medical care at some point. Health insurance helps pay for these costs and protects you from very high expenses.
The Affordable Care Act (ACA) requires most types of health coverage to offer Essential Health Benefits (EHBs), including:
Ambulatory patient services (e.g., doctor and clinic visits)
Emergency services (e.g., ambulance, first aid, and rescue squad)
Hospitalization
Maternity and newborn care
Mental health and substance use disorder services, including behavioral health treatment
Prescription drugs
Rehabilitative and habilitative services and devices (e.g., therapy sessions, wheelchairs, oxygen)
Laboratory services
Preventive and wellness services and chronic disease management (e.g., blood pressure screening, immunizations)
Pediatric services, including dental and vision care
Health insurance is a contract between you and an insurance company. You buy a plan, and the company agrees to pay part of your medical costs when you get sick or hurt.
There are other important benefits of health insurance. Plans available in the Health Insurance Marketplace (and most other plans) provide free preventive care, like vaccines and check-ups. They also cover some costs for prescription drugs.
HEALTH INSURANCE HELPS YOU PAY FOR CARE
Did you know the average cost of a 3-day hospital stay is $30,000? Or that fixing a broken leg can cost up to $7,500? Having health coverage can help protect you from high, unexpected costs like these.
Your insurance policy or summary of benefits and coverage will show what types of care, treatments, and services your plan covers, including how much the insurance company will pay for different treatments in different situations.
WHAT YOU PAY FOR HEALTH INSURANCE
You'll usually pay a premium every month for health coverage, and you may also have to meet a deductible each year. A deductible is the amount you owe for covered health care services before your health insurance or plan begins to pay. The deductible may not apply to all services.
How much you pay for your premium and deductible is based on the type of coverage you have.
Just as important as the premium cost and deductible is how much you have to pay when you get services.
Examples include:
What you pay out-of-pocket for services after you pay the deductible (coinsurance or copayments)
How much in total you'll have to pay if you get sick (the out-of-pocket maximum)
The policy with the cheapest premium may not cover many services and treatments.
4 THINGS TO KNOW ABOUT HEALTH INSURANCE
1. Different health insurance policies can offer different benefits, and some can limit which doctors, hospitals, or other providers you can use. All Marketplace health plans pay the full cost of certain preventative benefits even before you meet your deductible.
2. You may have to pay a deductible each plan year, which is the amount you pay for covered health care services before your insurance plan starts to pay. After you pay your deductible, you usually pay only a copayment or coinsurance for covered services. Your insurance company pays the rest. Some plans have separate deductibles for certain services, like prescriptions drugs.
3. You may have to pay coinsurance or a copayment when you get medical care, like a doctor visit, hospital outpatient visit, or a prescription. Coinsurance is usually a percentage amount (for example, 20% of the total cost). A copayment is usually a fixed amount (for example, $10 or $20 for a prescription or doctor visit).
4. Health insurance plans contract with networks of hospitals, doctors, pharmacies, and health care providers. Depending on the type of policy you buy, your plan might only pay for your care when you get it from a provider in the plan's network, or you may have to pay a bigger share of the bill.
GET READY TO APPLY FOR OR RENEW YOUR HEALTH INSURANCE MARKETPLACE COVERAGE
Get Ready
5 questions to ask yourself when choosing a plan
The Health Insurance Marketplace offers different plan types to meet a variety of needs and budgets. Most people qualify for financial help to make health coverage affordable. Compare plans based on what's important to you, and choose the combination of price and coverage that fits your needs. Ask yourself these 5 questions as you shop for Marketplace coverage.
Before you start your application, there are a few things you should gather to help make the process go quicker and easier. Gather this information before you go online or call to start your application, or before you go to a meeting with an in-person enrollment assister. Click here for a complete checklist of what information you will need to gather and why you will need it.
ALREADY HAVE MARKETPLACE COVERAGE? YOU SHOULD STILL COMPARE PLANS EVERY YEAR
New plans and prices are available each year, and plans may be more affordable than you think. Last year, 2 out of 3 healthcare.gov customers could find a plan with monthly premium of $10 or less. To help you decide whether to keep or change your plan,  take the quiz.
Re-enrolling? Shop and save! Coverage could be more affordable than you think. Last year, nearly nine out of ten people who enrolled through HealthCare.gov qualified for financial help to make quality coverage more affordable. You may be eligible for additional savings, so make sure to log in to your account, update your information, compare plans and pick the plan that's right for you. Some people qualify for tax credits that reduce their monthly premium to $0 per month.
The annual open enrollment period is November 1 – January 15. If you qualify for a Special Enrollment Period (SEP) because of a life change like getting married, having a baby, losing other coverage, or moving, you may apply for coverage outside of Open Enrollment. See if you qualify. You also can apply for Medicaid and CHIP any time of the year.
See plans & pricing: https://www.healthcare.gov/see-plans/
This page is supported by the Centers for Medicare and Medicaid Services (CMS) of the U.S. Department of Health and Human Services (HHS) as part of a financial assistance award totaling $1,000,000 with 100 percent funded by CMS/HHS. The contents are those of the author(s) and do not necessarily represent the official views of, nor an endorsement, by CMS/HHS, or the U.S Government.